Wines with
grace, finesse
and sense of place
Chardonnays with subtle warmth and charm
Pinot Noirs with depth, integrity and transparency of site
Cabernet Sauvignons with dignity and quiet power
Wines are living, changing beings, ever evolving. I prefer to release my wines with a bit more bottle age than most wineries, enabling the flavors and aromas to marry and mature.
If you enjoy wines with grace and power, that become more beautiful and nuanced with time, you have come to the right place. .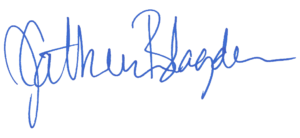 How I came to winemaking
I am a winemaker because it is a wonderful opportunity to work with something dynamic and alive during every incarnation of its existence – from grapes to glass. Wine is always changing – including in the bottle and even after being poured into a glass...
INSTAGRAM
The world of wine revealed!
@blagdenwines is my place to show the wonderful world of wine. You will find everything wine related including books, gadgets and life!.
Wine is my passion and I hope you enjoy discovering it.
2015 Pinot Sangiacomo
Wine of the month
A LOVELY, MOUTHWATERING PINOT NOIR WITH BALANCE AND ELEGANCE